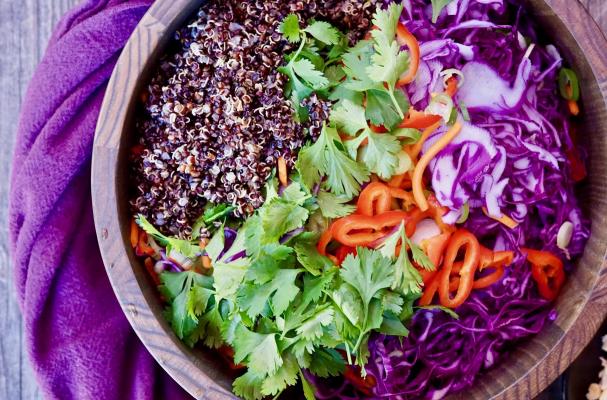 Quinoa is an ancient grain that boasts a broad spectrum of health benefits. Though technically a pseudo-cereal and not a grain, it is nutritionally considered a whole grain. It's loaded with antioxidants, essential vitamins, minerals, fiber (more than 5 grams per cup), and protein (more than 8 grams per cup). It's naturally gluten-free, and is a quick-cooking versatile substitute for nutritionally weak simple carbohydrates such as pasta and rice. It's also one of the only plant-based foods that's considered a complete protein, meaning it contains all the essential amino acids our bodies need and cannot produce.
Below are 15 sweet and savory quinoa recipes - from salads and stir-fries to burgers and muffins - that you can easily incorporate into your weekly menu planning. Some recipes call for whole quinoa, some for quinoa flakes which you can find at better supermarkets and online. Quinoa flakes are great to use in baking, as a binder (for example, in lieu of breadcrumbs), or simply enjoyed as a hot cereal.
Please note that not all the recipes below are gluten-free but with simple swaps can easily be made so.
Seafood Quinoa Salad
Contributed to Foodista by StreetSmart Kitchen
1 cup uncooked quinoa
1 1/2 cups Kettle & Fire Chicken Bone Broth or water
1 (6-oz) tuna steak
8 ounces medium-sized shrimp, peeled and deveined
1 teaspoon Old Bay seasoning
1/2 teaspoon ground black pepper
1 avocado, diced
1/2 cup red onion, thinly sliced
2 radishes, thinly sliced
1 serrano pepper, sliced
1/4 cup fresh cilantro leaves, chopped
Lemon wedges for serving
For the dressing:
1/3 cup extra virgin olive oil
2 tablespoons lemon juice
1 tablespoon Dijon mustard
1 teaspoon Old Bay seasoning
1/2 teaspoon ground black pepper
Quinoa, Feta, and Avocado Salad
Contributed to Foodista by Justina Elumeze
2-3 Cups of Quinoa
300g Mixed Vegetables (I used carrots, red onions, broad beans and broccoli)
2-3 tbsp of Extra Virgin Olive Oil
2 Gluten Free Stock Cubes
Pinch of Salt
Pinch of Black Pepper
Pinch of Dried Mixed Herbs
Half an Avocado
50g Feta Cheese
Handful of Raisins
Handful of Fresh Coriander
2 tbsp of Balsamic Vinegar
1 tbsp of Honey
The Best Quinoa Minestrone Soup
Contributed to Foodista by Show Me The Yummy
2 tablespoons olive oil
4 oz pancetta
2 cups carrots (about 3 carrots), peeled and chopped
1 cup celery (about 2 stalks), chopped
1 large russet potato, peeled and chopped into large pieces
1 large yellow onion, diced
5 cloves garlic, minced
¼ teaspoon dried thyme
½ teaspoon dried basil
½ teaspoon dried red pepper falkes
1 (28 oz) can diced tomatoes
8 cups chicken broth
1 bay leaf
salt and black pepper, to taste
1 cup dry quinoa
1 (15-ounce) can cannellini beans, drained and rinsed
10 oz baby spinach (roughly chopped if desired)
½ cup pinot grigio (or similar wine)
2 tablespoons pesto (I used my homemade pistachio pesto)
Shredded parmesan cheese, optional
Baguette smothered in my pistachio pesto, optional, but highly recommended!
Cheesy Chicken and Vegetable Quinoa
Contributed to Foodista by Peas of Cake
1 cup quinoa, uncooked
1 head broccoli, cut into florets
6-8 oz mushrooms, sliced
4 tbsp. olive oil, divided
1/4 cup bread crumbs (Panko or make your own)
3 boneless, skinless chicken breasts
Salt and pepper, to taste
1 tsp. garlic, minced
2 tbsp. all-purpose flour
2 cups non-fat milk
1 1/2 cups shredded cheddar cheese, divided
1/3 cup plain greek or plain non-fat yogurt
Healthy Quinoa Salad with Sesame-Crusted Salmon and Tahini Dressing
Contributed to Foodista by ShiuMai Eats
The Salad:
1 cup mixed quinoa (red and white)
3 spring onions, finely chopped
1/2 red pepper, diced
1/2 green pepper, diced
1 carrot, peeled & grated
1 handful of mushrooms (I used bunashimeji from Japan)
3 coriander, roughly chopped
1 handful of fresh spinach leaves
1 handful of edamame
1 small cucumber, diced
salt and pepper
Tahini Dressing:
1/3 cup Greek yoghurt
1 tbsp tahini
Juice from 1 lemon
Sesame-Crusted Salmon:
Salmon sashimi slices
Sesame seeds
2 tbsp soy sauce
1 tbsp brown sugar
vegetable oil
Sous Vide Salmon with Pico de Gallo & Quinoa Salad
Contributed to Foodista by StreetSmart Kitchen
For the salmon:
5 salmon fillets, skin on
Kosher salt to taste
Brown sugar, as needed (optional)
Freshly ground black pepper to taste
2-3 fresh dill sprigs
Lemon zest, as needed
Extra virgin olive oil
For the pico de gallo:
9 Roma tomatoes, seeded and diced
1 cup white onion, diced
1 medium garlic clove, minced
1/2 cup chopped cilantro leaves, firmly packed
1 jalapeño pepper, seeded and finely chopped (optional)
Juice of 2-3 limes
Salt and pepper to taste
For the quinoa salad:
2 cups uncooked quinoa
4 cups beef or chicken bone broth
1 5-ounce package spring mix
1 pint cherry tomatoes, halved
1/4 cup extra-virgin olive oil
Kosher salt to taste
Freshly ground black pepper to taste
Juice of 1 lemon
Mini Frittatas with Quinoa
Contributed to Foodista by Easy Cook - Laka Kuharica
2 cups cooked quinoa (about ¾ cup uncooked)
2 eggs
2 egg whites
1 cup zucchini, shredded
1 cup Swiss cheese, coarsely grated
½ cup ham, diced
¼ cup parsley, chopped
2 tbs Parmesan cheese, grated
¼ tsp white ground pepper
Roasted Sweet Potato and Quinoa Soup
Contributed to Foodista by Noshing with the Nolands
1 very large sweet potato
1/2 large sweet onion, diced
2 carrots, diced
1 large clove garlic, minced
3 Tbsp. olive oil, divided
Sea salt and pepper to taste
900 ml. chicken or vegetable stock
1 cup cooked quinoa
1/2 cup Panko crumbs
1 Tbsp. butter
1/3 cup grated Parmesan
Parsley for garnish
Gluten-Free Quinoa Vegetable Slaw With Peanut Dressing
Contributed to Foodista by Simmer + Sauce
For the Salad:
1 cup cooked black quinoa, cooled
3 cups shredded purple cabbage
3/4 cup shredded carrots
3 scallions, thinly sliced
6 mini red bell peppers, thinly sliced
1/2 cup loosely packed cilantro leaves
For the Peanut Dressing:
3 tablespoons lightly roasted creamy peanut butter
2 tablespoons Tamari
3 tablespoons rice vinegar
3 teaspoons tossed sesame oil
1 tablespoon freshly squeezed lime juice
1/2 teaspoon chili garlic sauce
1 tablespoon cold water
1/4 cup roasted and salted peanuts, roughly chopped
Carrot Quinoa Muffins
Contributed to Foodista by Veggies by Candlelight
Muffins:
1 c cooked quinoa
1/2 c organic dark brown sugar
3/4 c whole wheat pastry flour
1/2 c spelt flour
1/4 c kamut flour
(** Note: the original recipe calls for 3/4 c almond flour instead of the 1/2 c spelt & 1/4 c kamut combo I used)
1 tsp baking soda
1/2 tsp cinnamon
1/8 tsp ground ginger
1/8 tsp ground nutmeg
1/8 tsp allspice
1/2 tsp salt
1/3 cup coconut oil, melted, but not hot (** or 1/2 c butter)
1/2 c Chobani pineapple greek yogurt
1 tsp vanilla
2 eggs, lightly beaten
1 1/4 c loosely packed grated carrots (pulsed in the food processor until they were finely grated)
1/4 c unsweetened coconut, toasted
1/2 c walnuts, chopped & toasted
Coconut Whip:
1 can full-fat coconut milk, refrigerated overnight
1-2 tbsp powdered cane sugar
1/2 tsp pure vanilla extract
Epic Quinoa Veggie Burgers
Contributed to Foodista by Cocoa and Salt
1/4 cup quinoa, rinsed
1/2 cup vegetable broth
1 can black beans, rinsed and drained
1 clove garlic, finely chopped
2 tablespoons white onion, finely chopped
1 carrot, peeled and finely chopped
2 scallions, finely chopped
2 tablespoons sesame seeds
2 teaspoons red pepper flakes
1 teaspoon salt
1 teaspoon pepper
1 egg
1/4 cup breadcrumbs
1 tablespoon olive oil
4 hamburger buns and your favorite toppings (I used lettuce, tomato, onion, pickles, dijon mustard)
Chipotle Burrito Bowl
Contributed to Foodista by StreetSmart Kitchen
6 cups cooked quinoa
6 cups homemade slow cooker beef barbacoa, drained
1 (15.5-oz) can black beans or pinto beans, drained
1 (12-oz) package steamable sweet corn
2 avocados, sliced
2 cups pico de gallo (I used homemade)
2 cups Mexican cheese blend
4 cups iceberg lettuce, shredded
1/2 cup sour cream
Your favorite salsa (optional)
Fresh cilantro for garnishing
Gluten Free Butternut Squash and Sage Galette
Reprinted with permission from Jennifer's Way Kitchen: Easy Allergen-Free, Anti-Inflammatory Recipes for a Delicious Life
2 tablespoons ghee, coconut oil, or nondairy butter (such as Earth Balance)
1 onion, thinly sliced
1 cup fresh peas
2 tablespoons chopped fresh sage
2 teaspoons real maple syrup
1 butternut squash, peeled, cut into 1/4-inch slices, then cut into thin squares
½ teaspoon ground turmeric
2/3 teaspoon ground cinnamon
Dough from Old-Fashioned Gluten-Free Piecrust (see below), sweetener omitted, chilled, and ready to press out
1 tablespoon olive oil
OLD-FASHIONED GLUTEN-FREE PIECRUST
PIECRUST FLOUR
MAKES 3 CUPS (DOUBLE THE RECIPE FOR A DOUBLE PIECRUST OR TO MAKE IN BULK TO STORE)
INGREDIENTS
1¼ cups brown rice flour
3/4 cup sorghum flour
½ cup arrowroot starch
4 cup tapioca starch
¼ cup quinoa flour
METHOD
Mix everything together in a bowl, whisking until well blended. Store in an airtight container in the fridge for up to a month.
PIECRUST
MAKES 1 PIECRUST
INGREDIENTS
3 cups piecrust flour
¼ cup maple sugar, date sugar, coconut sugar, or evaporated cane juice (omit for savory recipes)
6 tablespoons millet flour
1½ teaspoons xanthan gum
¾ teaspoon Himalayan salt
1¼ cups cold Earth Balance nondairy butter
¾ cup cold rice milk
Three Quick Vegan Salad Jar Recipes
Contributed to Foodista by Lauren Caris Cooks
Greek Style Salad Dressing:
2 tbsp Balsamic Vinegar
2 tsp Lemon Juice
1 tsp Olive Oil
1/2 tsp Dijon Mustard
Salad:
8 Cherry Tomatoes
1/4 of a Cucumber
2 Basil Leaves
1/2 cup Dried Pasta
1/4 cup Kalamata Olives
1/2 cup Beans (of your choice)
1/2 cup Spinach
Cookie Covered Figs with Carob Coconut Topping
Contributed to Foodista by Snacking Squirrel
Cookie Dough:
1.5 cups quinoa flakes
3/4 cup brown rice flour
1/3 cup brown sugar
1/4 cup butter or margarine (or dairy-free vegan spread)
1 large whole egg
4-5 medium fresh figs
1/2 tsp vanilla
1/2 tsp cinnamon
1/4 tsp baking powder
1/4 tsp sea salt
1 pinch nutmeg
Carob and Coconut Topping:
1/2 cup carob chips (unsweetened if possible)
1/4 cup shredded coconut
1/8 cup water