It's the beginning of the week, we're back at work and I bet you're already thinking what to make for dinner tonight, right? I know I am. I love the weekends because I have the time to be in the kitchen cooking and creating meals, even if they take hours. But come Monday my mindset, and priorities, shift and I look for ways to shave off time spent at the stove (and at the sink). We're all busy, and we all get tired at the end of the day, but we still have to feed - and nourish - those hungry mouths, even if we're just cooking for one. I love one pan and one pot meals (the slow cooker is my best friend year-round) as you can pack in the ingredients without making a mess. When cooking a sheet pan dinner (a meal where you can cook everything right on a cookie sheet) I always line the pan first with aluminum foil for even easier cleanup.
This week, try the Chicken Fricassee Abruzzo, a one skillet dish featuring flavorful chicken thighs, tomatoes, sweet and spicy peppers, olives, and herbs. It's easy, it's packed with wholesome ingredients, and best of all, you will love it. Serve it with a whole grain like farro and a big green salad simply dressed with olive oil and vinegar. If you're craving something creamy and delicious, try the Creamy Lasagna or the Chicken Broccoli Bake - both are cooked up in just one skillet. Read on for more week night dinner inspiration.
Chicken Fricassee Abruzzo
Contributed to Foodista by Taste and See
This scrumptious Italian dish combines moist and tender chicken thighs with the most flavorful ingredients of the Abruzzo region - garlic, olives, rosemary, sweet hot peppers, tomatoes, and white wine.
Creamy Skillet Lasagna
Contributed to Foodista by Pick Fresh Food
Oh, how I love lasagna, but it is a time consuming dish to prepare with all those layers! Pick Fresh Food has simplified this classic layered Italian casserole into a cheesy delicious one-skillet dinner.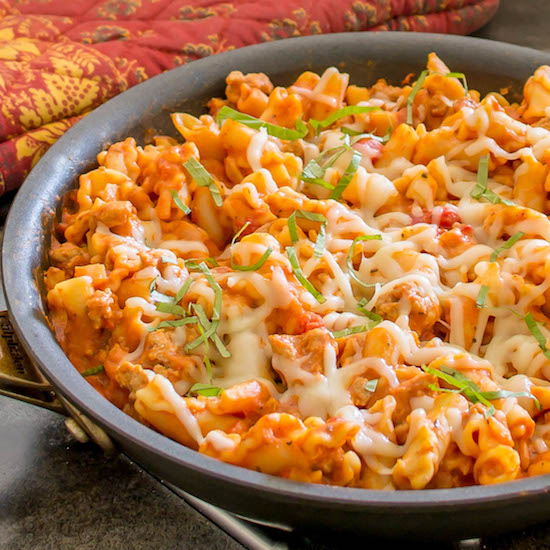 One Pan Healthy Turkey Beans and Rice
Contributed to Foodista by Culinary Envy
This easy to make dinner is full of wholesome goodness. Four kinds of beans, ground turkey, tomatoes, sweet red bell pepper, and a bunch of yummy seasonings make this dish a one pot winner!
Easy One Pan Chicken Broccoli Bake
Contributed to Foodista by Culinary Envy
There's something so wonderfully cozy and comforting than a bowl of creamy, cheesy, well, anything really. One our family favorites is cheesy chicken and broccoli with rice. You'll only use one skillet for this easy recipe, so clean-up is a cinch!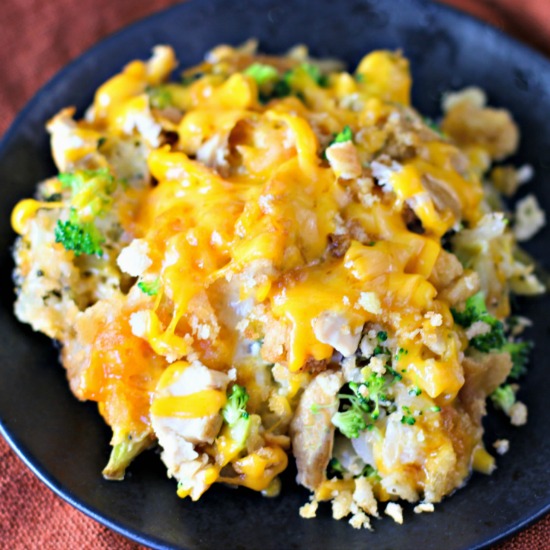 Greek Chicken Sheet Pan Dinner with Green Beans and Feta
Contributed to Foodista by Taste and See

This Greek-style dinner is so beautiful you could easily serve it at a dinner party, and fortunately, it's so easy you can make it any night of the week. Chicken breasts, green beans, diced tomatoes, sliced lemons, garlic and onions, feta cheese and fresh oregano and parsley are all baked together on one big sheet pan. Easy, delicious, that's how we like it.