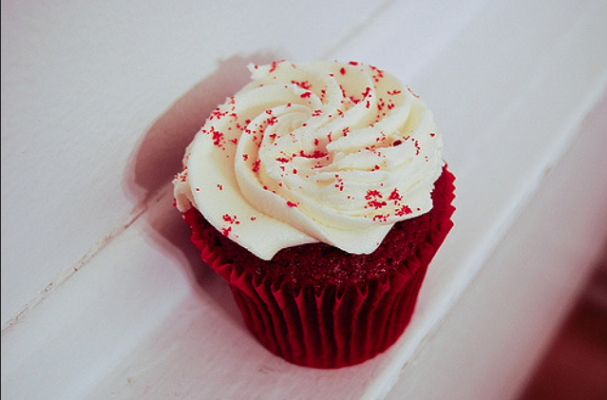 Red velvet cupcakes are a festive sweet for the holiday season. Nothing is quite as good as a moist, faintly chocolaty cake with homemade cream cheese frosting slathered over the top. This recipe comes from Ava's Cupcakes, a bakery in New Jersey that specializes in holiday treats. In addition to their signature red velvet cupcake, they are also offering chocolate peppermint melting spoons, a hot chocolate cream punk cake and a vanilla and buttercream melted snowman cake. What do you like to bake during the holiday season? Let us know in the comment section below.
Red Velvet Cupcakes
Courtesy of Ava's Cupcakes
Ingredients:
2 3/4 Cups All-Purpose Flour
1 1/2 Cups Granulated Sugar
1/4 Cup Best Quality Cocoa Powder
1 tsp Baking Soda
1 tsp Salt · 2 Eggs
1 Cup Vegetable Oil
1 Cup Buttermilk
1 Tsp Vanilla
1 Tsp White Vinegar
1/2 Cup Red Food Color
Directions:
Step 1: Blend your dry ingredients in your mixing bowl.
Step 2: In a separate bowl, mix the first 5 wet ingredients together, add to your dry mix. Once fully incorporated, slowly adding food color and vinegar and mix well!
Step 3: Scoop and fill your cupcake pans 2/3 of the way
Step 4: Bake at 350 for 19 minutes
Tip: · Stays for 5 days in an airtight container, 3 months in a freezer
Image Sources: