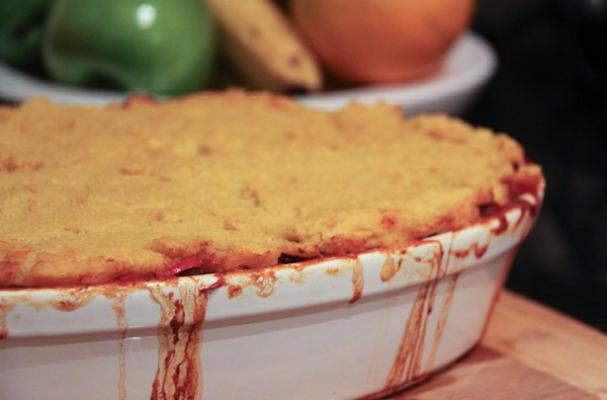 Beef tamale pie with a cornmeal crust was one of my favorite fall meals growing up. My mom wasn't good at cooking many things but she made a tasty tamale pie. Looking back, the recipe couldn't have been simpler- a meaty tomato sauce was topped with velvety cooked cornmeal and cheese to create something delicious. This meal makes for perfect leftovers or can even be prepared ahead of time and frozen to eat later. If you prefer chicken, check out this recipe for one pot chicken tamale pie as an alternative.
Beef Tamale Pie with Cornmeal Topping
Ingredients:
1 cup cornmeal
2 tbsp butter
1 cup shredded sharp cheddar cheese
1 tbsp olive oil
1 yellow onion, finely diced
1 red bell pepper, finely diced
3 cloves garlic, finely minced
1 lb lean ground beef
1 15 oz can whole peeled tomatoes
1 tsp ground cumin
salt and pepper, to taste
Directions:
Step 1: Preheat oven to 425 degrees Fahrenheit. Bring 4 1/2 cups of water to a boil in saucepan. Slowly whisk in cornmeal, butter and season with salt. Simmer until thickened, about 5 minutes. Remove from heat.
Step 2: In a separate saute pan, heat olive oil over medium high heat. Add the red pepper, onion and garlic and cook until onion is translucent, about 5 minutes. Add the beef and continue cooking until meat is browned. Add peeled tomatoes and season with cumin, salt and pepper. Let mixture simmer until most of the liquid has evaporated.
Step 3: Spoon beef mixture into an oven proof dish and top with cornmeal. Sprinkle with cheese. Bake for 10 to 12 minutes or until cheese has melted. Remove and let cool slightly before serving.
Image Sources: