Summertime is the perfect opportunity to lighten up your diet, but that doesn't mean you have to leave out desserts! Strawberry shortcake is a traditional kickoff to summertime fare, and we found this tasty recipe for a confetti cake that takes the place of plain shortcake in a perfect summer dessert that is both beautiful and indulgent.
Confetti cake makes this a quicker recipe than the homemade shortcake version, but it's also much lighter and fresher than you think. The berries balance out the super sweetness of the cake so this is a differently delightful recipe.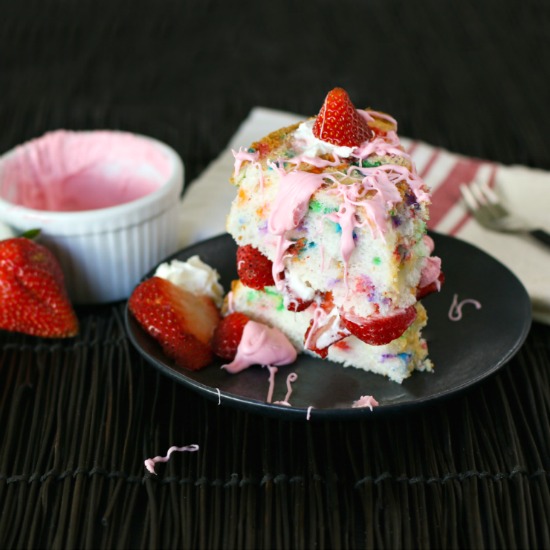 2 pints strawberries, hulled and sliced
2 tablespoons sugar
1 box Angel Food Cake Mix* (I used Duncan Hines Signature brand)
¼ cup rainbow sprinkles
1 cup heavy cream beaten with 1 tablespoon sugar and ½ teaspoon vanilla extract for topping
1 can strawberry marshmallow frosting, warm in the microwave for 15-20 seconds, in a microwave safe bowl, to drizzling consistency
Preparation
1 In a medium size bowl, combine the strawberry slices with the sugar. The sugar will draw out some of their juices to make a tasty syrup in the bottom of the bowl. Cover and chill until the Angel Food Cake is cool.
2 Prepare Angel Food Cake Mix according to package directions, but gently stir rainbow sprinkles into the batter right before you put it in the 10" tube pan. Bake and cool according to package directions.
Image Sources: