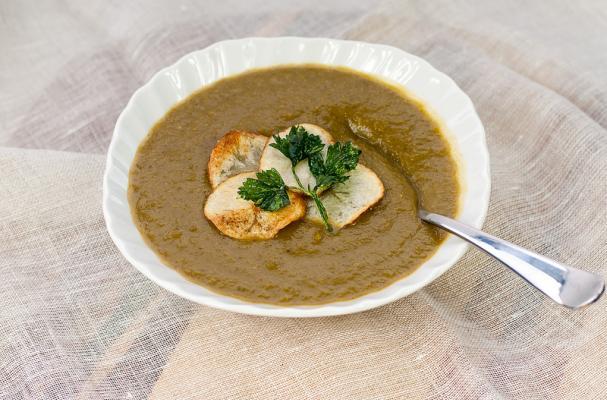 Sometimes, a traditional recipe is so delicious it becomes one of your family favorites. This Vegan Colcannon soup is a traditional Irish dish that is perfect for our long Maine winters. It contains all the winter vegetables that we store in the root cellar, but it doesn't stop there. Blended until it's silky smooth, the natural sweetness of the root vegetables is enhanced by the juice of a tart lemon. It also has plenty of my personal favorites, greens. Who can say no to fresh kale?
This soup is filling and nourishing. It's just the thing on a cold winter night. Check it out:
2 tablespoons extra virgin olive oil
2 medium leeks, tough green outer leaves removed, washed well (see Kitchen Tip), and thinly sliced
2 cloves garlic, chopped
1 stalk celery (with leaves), roughly chopped
3 large russet potatoes, peeled and cut into cubes (about 2 cups)
¼ head savoy cabbage, roughly chopped (3 cups)
1 head kale, stemmed and roughly chopped (about 8 cups)
8 cups Roasted Vegetable Stock or store-bought low-sodium vegetable broth
2 teaspoons kosher salt
1 teaspoon freshly ground black pepper
Juice of 1 lemon
Ingredients
Heat the oil in a large stockpot set over medium-high heat, until it shimmers. Add the leeks, garlic, and celery, and cook, stirring frequently, for 3 to 4 minutes, until the edges are golden. Add the parsnips, potatoes, cabbage, kale, stock, salt, and pepper and stir well. Reduce the heat to medium and cover.
Bring the soup to a boil; then reduce the heat to a low simmer. Cook for 30 to 35 minutes, until the vegetables are tender and soft. Add the lemon juice.
Using an immersion blender (or working in batches in a blender), purée until completely smooth. Serve immediately or store in an airtight container for up to 3 days.
Image Sources:
Categories: