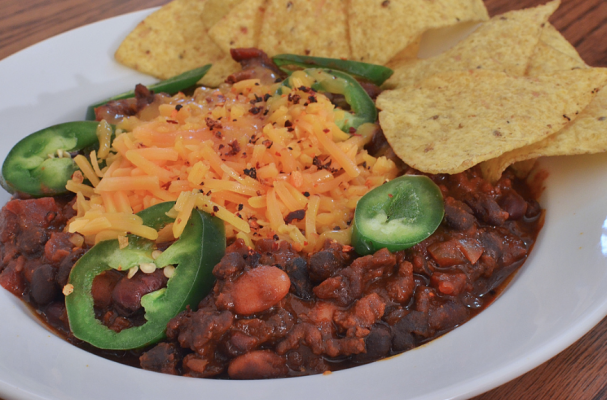 You can't talk about beans without mentioning the great chili and beans debate. There are activists in both camps, fans of chili with beans and those without. Most notably, Texas is known for their "bowl of red" which is a bean-free chili prepared solely with ground beef, spices and a zesty red chile sauce. Personally, I believe that both bean and bean-less chilis have their place in the culinary world. In other words, some variations are better suited in some dishes and not others. For example, a meaty chili is great as condiment on burger, fries and/or hot dogs while a bowl of chili studded with pinto beans would be considered more acceptable when consuming it as its own meal. With that in mind, here is one of my favorite bean chili recipes just in time for fall.
Beef and Vegetable Chili
Ingredients:
For the chili:
2 tbsp. olive oil
1 lb. lean ground beef
1 yellow onion, diced
3 garlic cloves, finely minced
1 chipotle chilie in adobo, finely minced (seeds removed if less spicy)
2 tsp dried Mexican oregano
1 tsp ground coriander
2 tsp ground cumin
1 small eggplant, peeled and diced
1 large carrot, peeled and diced
1 large zucchini, diced
1 red bell pepper, ribs and seeds removed and diced
2 cups pinto beans, rinsed, soaked and drained*
4 cups low sodium beef broth
1 (14.5 oz) can crushed tomatoes
2 tbsp tomato paste
kosher salt and freshly ground black pepper, to taste
For the toppings:
fresh jalapenos, sliced
shredded cheddar cheese
tortilla chips
sour cream
fresh cilantro
Step 1: Heat the olive oil in a large oven safe pot or Dutch oven over medium high heat. Add the onions and garlic and cook until ingredients are fragrant and onions appear translucent, about 3 to 4 minutes. Add the ground beef and break it up with a wooden spoon. Once it begins to brown, season the beef with oregano, coriander, cumin, and chipotle chiles. Season with salt and pepper.
Step 2: Meanwhile, preheat the oven to 375 degrees Fahrenheit.
Step 3: Add the vegetables to the pot including the carrots, eggplant, zucchini, and red pepper. Continue to cook until the vegetables begin to soften, about 5 minutes. Add the beans, beef broth, crushed tomatoes and tomato paste. Stir the mixture until all the ingredients are well incorporated.
Step 4: Place a lid on the pot and cook the chili in the oven for an hour to an hour and a half or until the beans are tender. Taste and adjust seasoning as necessary. Spoon the chili into bowls and serve with various toppings.
Note*: For non-soaked beans, extend the cooking time for another hour and reduce the heat to 350 degrees Fahrenheit.
Image Sources: