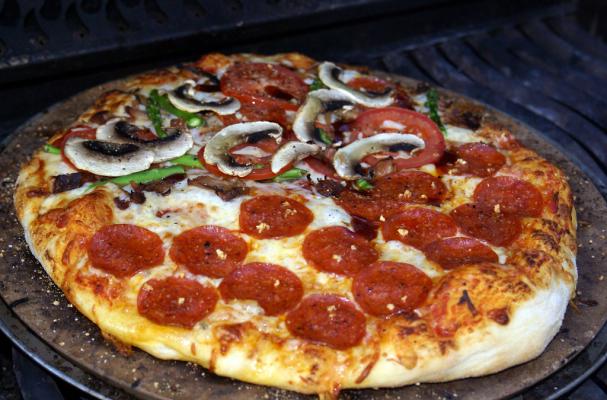 Cooler nights mean that grilling is so much more flavorful. No more fighting mosquitoes and sweating as I flip burgers while the family plays in the pool. My grill works hard, and in the late summer, it's all about being creative with the ingredients I have coming out of the garden. Grilled pizza was born, as a way to get as many vegetables into my kids as I could. Every Saturday night is Pizza Night, so this is a perfect opportunity to find something fresh in the garden and grill it on their favorite food to make it enticing.
If you want to grill pizza, there are a few rules to follow and the rest is up to you.
First of all, your grill has to be hot. The trick is to make the air above the actual grate super heated, but not scorch the crust too much(a little bit just adds to the flavor, but no one likes their pizza too burnt). To avoid this, heat up all your burners on high, but at the last minute, turn the burners under the pizza off or down very low. Be ready to put the crust in quickly so you don't lose all that built up heat, and quickly move your plain crust onto the indirect heat. That's right. You are going to grill those crusts before you top them. Is this vital? For flavor sake, yes.
What I do is make two personal sized pizzas per person for the adults, and one for each child. Just use your favorite crust or crust recipe and divide up what you have into the right number of portions. Then, I make the smaller sized pizza rounds and place them on cookie sheets to transfer to the grill. Once I am at the hot grill, I quickly move as many crusts as I can fit(without touching) onto the preheated grates. Close the lid and do NOT peek for 3 minutes. Then, open the lid, flip and cook for 1 minute more. The crusts will be puffy and browned, with great grill marks on them.
Pull those crusts back out and onto a cookie sheet to bring back to your assembly area. To encourage the kids to eat healthy, I have to endure the mess they make while pilings on their favorite toppings. Another tip: use tomato paste instead of sauce. It's deeply flavored and not nearly as messy. Plus you don't run the risk of over saucing and making your crust soggy. Once you have another pile of newly topped pizzas ready to go, head back to the grill and place them onto indirect heat once again. Keep that lid closed for a couple of minutes, peek and see if they need just another minute or so to cook everything to perfection.
Honestly, these pizzas are better than anything you will ever buy, and once you are done cleaning up the kids' mess, your work is virtually done. It's a win for the family, and a win for the cook.
One final tip: Make your dough early in the day (or the night before) and allow it to proof and get knocked down all day long. This helps the dough produce that tangy flavor you always love at a good pizzeria and just could never replicate at home. It's a vital step, and one that will make you the Master Pizza Crafter in your own family. Enjoy!
Image Sources: