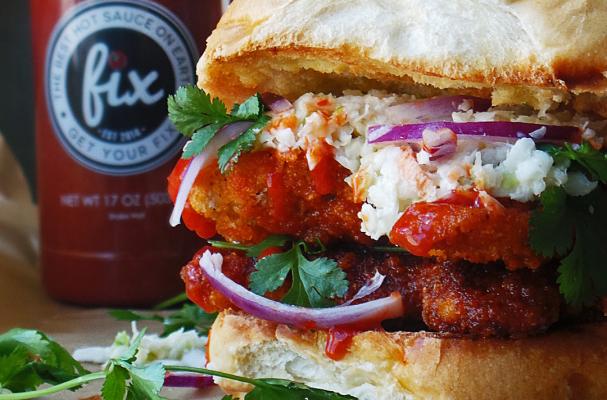 Sriracha, also known as rooster sauce, has taken the culinary world by storm. The red sauce has been drizzled on everything from chicken sandwiches, to deviled eggs, and even ice cream. If you have become as addicted to this Asian hot sauce as I have, you will need these five sriracha recipes in your life.
Sriracha Cheddar Bread
Recipe from Parsley, Sage & Sweet
Sriracha is paired with cheddar and pepper jack cheese and spread on top of bread dough before being rolled up and placed into a loaf pan. While the bread bakes, the flavors of the cheese and hot sauce meld together. When the loaf has cooled and is ready to slice, you will see swirls of hot cheesy goodness. There is only one thing better than homemade bread, Sriracha cheddar bread- you have to try this at home!
Kahlua Pork Sliders
Recipe from Saucy Tomatoes
Inspired by a trip to Hawaii, the pork is cooked low and slow in a crock pot with Kahlua, liquid smoke, and black lava salt. Homemade Sriracha aioli is drizzled over the top of the meat before serving. If you do not have time to whip up your own aioli, simply mix the Sriracha with mayo.
Thai Peanut Noodles
Recipe from Mini Pie Kitchen
A splash of sriracha will kick up the flavor in any recipe, especially these Thai peanut butter noodles. The heat from the hot sauce compliments the natural sweetness in the peanut butter. These noodles can be eaten hot or cold so they are great to take on picnics.
Spicy Sriracha Lentil Wrap
Recipe from Feasting at Home
Whether you are a vegan, vegetarian, omnivore or the like, sriracha is a must-have condiment. For these vegan lentil tahini wraps, sriracha is combined with the tahini (sesame seed paste) to create a spicy dipping sauce. The wraps are loaded with black caviar lentils, carrots, avocado and purple cabbage.
Sriracha Chicken Sandwich
Recipe from Vodka and Biscuits
Ok guys, I cannot stress enough how incredibly delicious this sriracha chicken sandwich is. Panko crusted chicken thighs (not breasts!) are doused in sriracha sauce and paired with a creamy coleslaw and cilantro in a soft bun. I highly doubt you will eat a better chicken sandwich at a restaurant. This one is best left homemade.
Image Sources: