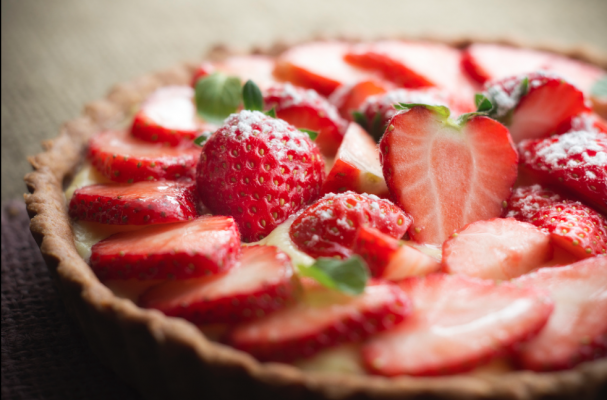 Depending on where you live, strawberry season may or may not have arrived. Regardless of the weather, it is necessary to have a solid strawberry tart recipe on hand when those red juicy berries appear in the market. A classic strawberry tart has three components: a buttery crust (preferably homemade), pastry cream, and of course, fresh strawberries. This is the kind of dessert you will want to bake when strawberries are at their peak so hold out (if you can) for the sweetest, biggest, best berries you can get your hands on.
Strawberry Tart
Recipe from Dulce Delight
Ingredients:
For the crust (pâte sucrée):
200g ( or 1 1/3 cup) white flour
1 tbsp sugar (don't add it if you are making the savory version called pâte brisée)
1/2 tsp salt
100g (1/2 cup or one stick) unsalted butter
1 egg, beaten
1 or 2 tbsp cold water (if necessary)
For the pastry cream:
1 1/4 cup whole milk
3/4 cup heavy cream
1/2 tsp butter
3 eggs
8 tbsp sugar
3 tbsp cornstarch
1 tbsp vanilla
pinch on salt
For the topping:
1 lb. sliced strawberries
1 package unflavored gelatin dissolved in 1 cup of hot water
For full recipe instructions, watch the video below or click here.
Image Sources: