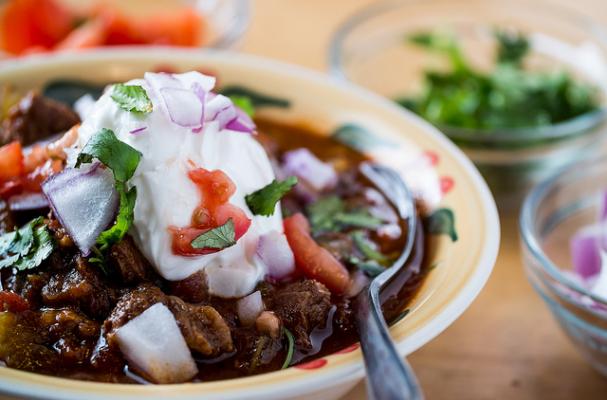 If you're feeding a hungry crowd at your Super Bowl party, chili will get the job done right. A big pot of self-serve chili alongside an assortment of garnishes like cheese, sour cream, cilantro, onion, avocado, and serrano chiles will keep your sports fans happy and full! We're whipping up a pot of this crazy good beef chili for our game day fête and know we'll score cheers from our guests! Tip: start it the night before in the slow cooker for a stress-free game day.
Beef Chili
Courtesy of Chef Ben Ford, chef/owner of Ford's Filling Station
For the Chili
¼ cup plus 2 tablespoons olive oil
4 medium yellow onions, chopped
3 teaspoons kosher salt
2 teaspoons freshly ground black pepper, plus more to taste
6 medium garlic cloves, chopped
¼ cup chili powder
2 tablespoons smoked sweet paprika
2 tablespoons ground cumin
2 teaspoons cayenne pepper
2 teaspoons red pepper flakes
1 teaspoon ground coriander
1 teaspoon New Mexico chile powder
1 teaspoon chipotle chile powder, or 1 teaspoon pureed chipotle in adobo
2½ pounds raw ground beef, or crumbled cooked burger patties
3 cups chicken stock (recipe follows), store-bought chicken stock, or water, plus more as needed
One 28-ounce can crushed tomatoes
Four 15-ounce cans pinto or kidney beans, rinsed and drained
3 tablespoons dried oregano
1 tablespoon sugar
For Garnish
1 ripe Hass avocado, pitted and peeled
½ lime
Kosher salt
2 cups shredded Cheddar or Jack cheese (about 8 ounces)
1 cup sour cream
¼ to ½ cup chopped cilantro
½ cup chopped yellow or white onion
1 serrano chile, thinly sliced into rings
Heat the oil in a large pot over medium heat.
Add the onions, sprinkle with 1 teaspoon if the salt, and sauté until they are transparent and soft, about 15 minutes. Add the garlic and sauté for about 1 minute; don't let it brown. Add the chili powder, paprika, cumin, cayenne, red pepper flakes, coriander, and New Mexico and chipotle chile powders.
Sauté, stirring constantly, for about 2 minutes to integrate the flavors.
Add the meat, season with the remaining 2 teaspoons salt and the black pepper, and cook, stirring and breaking up the meat with a wooden spoon, until the meat is evenly browned, about 15 minutes. (If you are using cooked meat, you don't need to season it or sauté it, just add it to the pan and jump straight to the next step.)
Add the stock, tomatoes including their juices, beans, oregano, and sugar. Bring to a boil, reduce heat to low, and simmer the chili, stirring occasionally, for 30 minutes or more, until it is thick. Add more salt or pepper to taste.
Put the avocado in a bowl. Sprinkle liberally with salt, squeeze with lime, and mash with a fork.
Serve the chili warm, with the cheese, sour cream, cilantro, onion, avocado, and serrano chiles on the side for people to personalize their chili.
Note: Image is only a representation of this recipe.
Image Sources: