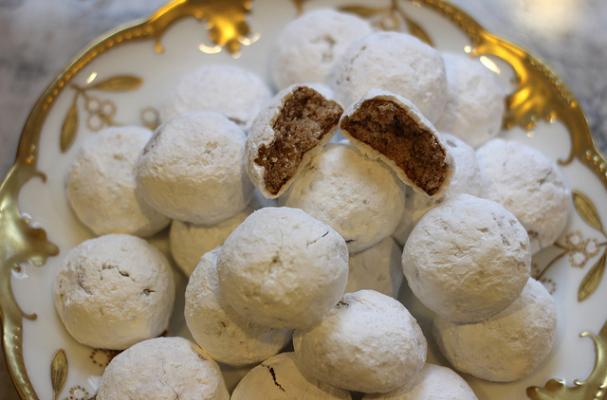 Pfeffernüsse (also pfeffernuesse, peppernoder, or peppernuts in English) are little European spiced cookies that are traditionally served during yuletide celebrations. There are many variations to the recipes though they most commonly feature a lovely blend of aromatic spices such as anise, cloves, cinnamon, and black pepper. Some are iced while others are dusted with powdered sugar. If you love gingerbread, you will love this even spicier pfeffernüsse cookie recipe!

Pfeffernüsse Spiced Cookies
Adapted from Saveur
Makes 3 dozen cookies
Ingredients
½ cup honey
⅓ cup molasses
2 tablespoons butter
2 eggs, at room temperature
2 cups whole wheat pastry flour
⅓ cup almonds, finely ground
¾ teaspoon freshly ground cinnamon
¾ teaspoon freshly ground black pepper
¾ teaspoon freshly ground cloves
¾ teaspoon freshly ground cardamom
½ teaspoon baking powder
2 tablespoons vegetable oil
1 1/2 cups confectioners' sugar for dusting

Directions
Step 1. Heat honey, molasses, and butter in a small saucepan over medium-low heat. Stir constantly until hot, about 2–3 minutes. Remove from heat and let cool. Once cooled, add eggs and whisk to combine.
Step 2. Put flour, almonds, cinnamon, pepper, cloves, cardamom, and baking powder into a large bowl and stir to combine.
Step 3. Add honey mixture and stir with a wooden spoon until well combined a dough is formed. Cover surface of dough with plastic wrap and refrigerate for 8 hours or overnight.
Step 4. Preheat oven to 350° F.
Step 5. Line 2 baking sheets with parchment paper and set aside.
Step 6. Lightly oil your palms with some of the oil. Form dough into 36 balls, each about 1" wide (the dough will be very sticky, so keep your hands lightly oiled while working). Divide dough balls between baking sheets, keeping them spaced 1" apart. Bake until slightly cracked on top and just firm to the touch, about 15 minutes. Transfer cookies to a wire rack and let cool.
Step 7. Pour confectioners' sugar into a medium bowl. Thoroughly coat each cookie, one or two at a time, until all sides are covered. Can be stored in an airtight container for up to one week.