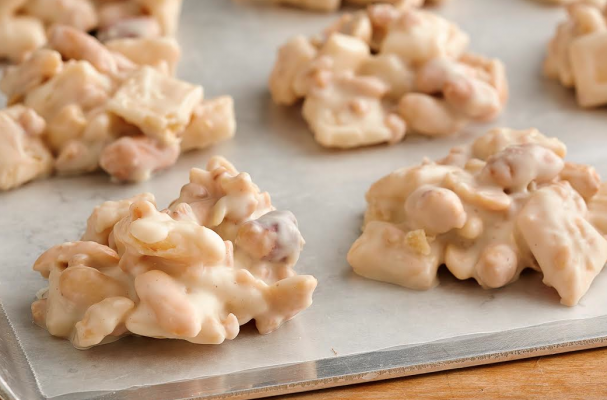 The Pillsbury Bake-Off is an annual competition that gives home cooks to share their recipes using Pillsbury products and win the Grand Prize of one million dollars. The winner of the 47th Pillsbury Bake-Off Contest Beth Royals of Richmond, Virginia who impressed the judges with her peanutty pie crust clusters.
Bake-Off® Kitchens Manager, Jann Atkins, said, "Peanutty Pie Crust Clusters have something for everyone—they are sweet, salty and have a great crunchy texture. We thought Beth's idea, to use Pillsbury's refrigerated pie crust in a candy-like recipe, was both unique and creative. This dish is easy to make and it stores very well making it a great contribution to holiday parties and potlucks."
This easy candy is simple to make, requiring only six ingredients: pie crust, vanilla baking chips, shortening, peanut butter, peanuts, and toffee bits. Peanutty pie crust clusters can be packed up to make someone an extra special homemade gift.
Peanutty Pie Crust Clusters
Courtesy of Pillsbury
Ingredients:
1 Pillsbury™ refrigerated pie crust, softened as directed on box
1 bag (12 oz) white vanilla baking chips (2 cups)
1 tablespoon Crisco® Baking Sticks Butter Flavor All-Vegetable Shortening
1 tablespoon Jif® Creamy Peanut Butter
1 cup salted cocktail peanuts
2/3 cup toffee bits
Directions:
Step 1: Heat oven to 450°F. Line 2 cookie sheets with Reynolds® Cut-Rite® Wax Paper.
Step 2: Unroll pie crust on work surface. With pizza cutter or knife, cut into 16 rows by 16 rows to make small squares. Arrange squares in single layer on large ungreased cookie sheet. Bake 6 to 8 minutes or until light golden brown. Remove squares from pan to cooling rack. Cool completely, about 5 minutes.
Step 3: In large microwavable bowl, microwave baking chips, shortening and peanut butter uncovered on High 1 minute to 1 minute 30 seconds, stirring once, until chips can be stirred smooth. Add pie crust squares, peanuts and toffee bits; stir gently until evenly coated. Immediately drop by heaping tablespoonfuls onto lined cookie sheets. (If mixture gets too thick, microwave on High 15 seconds; stir.) Refrigerate about 15 minutes or until set. Store covered.
Image Sources: