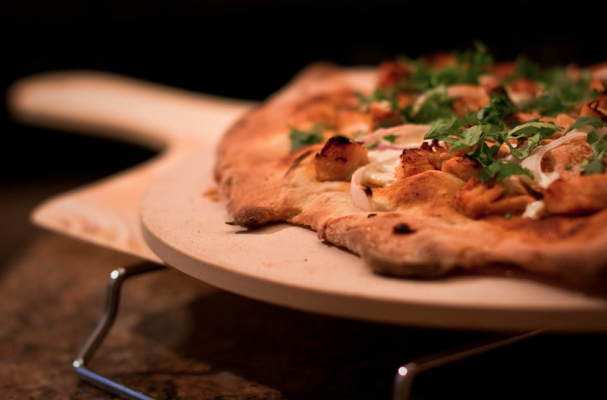 If you are wondering what to do with the last bits of leftover turkey hanging out in your fridge, transform it into this delicious barbecue turkey cranberry pizza. This effortless meal utilizes store bought pizza crust that is slathered in barbecue sauce and topped with the remaining turkey, sliced red onions and cheese. To make this dish a true leftover meal, the barbecue sauce is sweetened with a couple tablespoons of cranberry sauce. Top your freshly baked pizza with chopped cilantro and serve with ranch dressing for dipping.
Barbecue Turkey Cranberry Pizza
Ingredients:
1 to 2 teaspoon extra-virgin olive oil for brushing
1 package prepared pizza dough, at room temperature
1/2 cup Kansas style barbecue sauce (dark, smoky and slightly sweet)
2 tablespoons cranberry sauce
1/4 teaspoon cayenne pepper
8 ounces chopped turkey (dark and white meat)
2/3 cup grated gouda cheese
1/4 cup grated smoked gouda
2/3 cup grated part-skim mozzarella cheese
1/2 small red onion, thinly sliced Fresh cilantro, for topping
3 tablespoons chopped fresh cilantro
Directions:
Step 1: Prepare pizza dough according to package directions.
Step 2: In a small bowl, whisk together barbecue sauce and cranberry sauce.
Step 3: In a medium bowl, combine chopped turkey with two tablespoons of the barbecue sauce so that each piece of turkey is thoroughly coated with the sauce. Add more sauce if necessary.
Step 4: Slather the pizza crust with the remaining barbecue sauce (like you would tomato sauce). Top with a thin layer of gouda cheese and mozzarella cheese. Follow with the turkey and sliced red onion. Finish the pizza by topping it with the remaining cheese including the smoked gouda.
Step 5: Bake the pizza according to package directions. Once out of the oven, garnish with chopped fresh cilantro.
Image Sources: