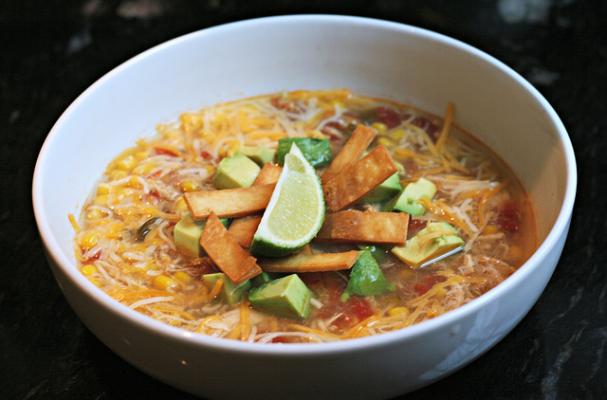 A warm and comforting bowl of soup is a welcome thing on a cold autumn eve. Here in Seattle we shake off the rain and our boots and hunker down for warmth, inside and out. It's a wonderful thing to come home to a meal that's been simmering away in the slow cooker, and to just set the table and sit down to eat. Clean up is a cinch too.
This chicken tortilla soup recipe is always a win in our home. I fill small bowls with an assortment of garnishes - like avocado, lime wedges, fresh cilantro, diced green onion, and tortilla chips - and let everyone doctor up their own bowl as they desire. Little ones, like our 4-year-old daughter, feel like they're cooking too when they get to "curate" their own bowl.
Variation: Don't have a slow cooker or the family is too hungry to wait? No worries! I've done this same recipe on the stovetop in a fraction of the time. Simply cook the chicken as instructed below, then shred the meat. Then, instead of following the slow cooker steps add ingredients to a stockpot and simmer on low for about 25-30 minutes. This recipe is also a great way to use up leftover chicken or even turkey after Thanksgiving.
Slow Cooker Chicken Tortilla Soup
Serves 8
1 tablespoon vegetable oil
1 lb boneless, skinless chicken meat, preferably breasts and thighs
3/4 teaspoon salt
1/2 teaspoon pepper
2 cups water
1 1/2 cups (1 32-ounce container) chicken broth
1 can (14.5 oz) roasted diced tomatoes, undrained
1 can (11 oz) whole kernel corn, drained
1 can (10 oz) enchilada sauce
1 large (about 1 cup) white or yellow onion, chopped
1 can (4.5 oz) diced green chilies
1 teaspoon ground cumin
1 teaspoon chili powder
For garnishes (any or all!):
Tortilla chips
Avocado, sliced or diced
Lime wedges
Sour cream
Fresh cilantro, chopped
Mexican blend of cheeses
Green onion (white and green parts), diced
In a large nonstick skillet, heat oil over medium-high heat. Add chicken and season with salt and pepper.
Cook until browned on both sides, about 4 minutes.
Place chicken in slow cooker.
Add water, broth, tomatoes, corn, enchilada sauce, onion, green chilies, cumin and chili powder.
Cover slow cooker and cook on the low heat setting for 4 hours or until chicken is tender.
Remove chicken from slow cooker to a cutting board and shred using 2 forks.
Return chicken to slow cooker. Stir in cilantro. Cover and cook 30 minutes longer.
Top each bowl with garnishes and serve immediately.
Image Sources: