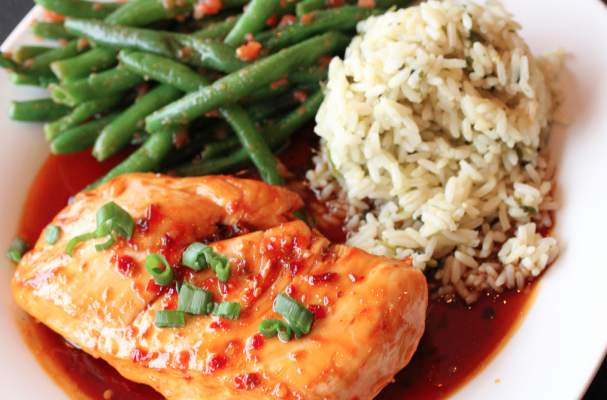 Orange glazed chicken breast is a one-skillet dinner that your family will want to eat all the time. Juicy tender chicken breasts are quickly browned before they are coasted in a sweet and sticky orange glaze studded with mandarin oranges, celery, red bell pepper and onion. You can also make a similar version of this dish using peach or apricot preserves, fresh or frozen peaches and a splash of peach nectar. You can serve this meal with practically any vegetable and instant brown rice to soak up the remainder of that delicious glaze.
Orange Glazed Chicken Breast
1/4 cup all-purpose flour
4 (1 to 1 ½ pound) boneless, skinless chicken breast halves
1 tablespoons butter
1 tablespoon olive oil
2 celery stalks, finely chopped
1 small onion, chopped
1/2 red bell pepper, chopped
1 teaspoon cornstarch
1/2 cup orange juice
1/4 cup orange marmalade
1/4 chopped mandarin oranges
2 tablespoons lemon juice
3/4 teaspoon cayenne pepper
1/2 teaspoon ground mustard
1/4 teaspoon ground ginger
1/2 teaspoon salt
Place flour in a shallow dish. Season chicken breasts with salt and pepper and dip them in the flour until coated completely. In a large skillet, melt butter and olive over medium-high heat and add chicken. Brown the breasts for 2 to 3 minutes per side. Transfer chicken to a platter and set aside.
Add celery, onion, and bell pepper to the skillet and cook until vegetables soften, about 5 minutes. While the vegetables are cooking, mix the cornstarch and orange juice together in a small bowl. Then, add the marmalade to the bowl and mix until well combined.
Add the sauce mix to the skillet along with the mandarin oranges, cayenne pepper, lemon juice, ground mustard, ground ginger and salt. Let cook 4 to 5 minutes, or until the sauce begins to thicken. Return chicken to skillet and cook 8 to 10 minutes, or until no pink remains in chicken and sauce has thickened.
Image Sources: