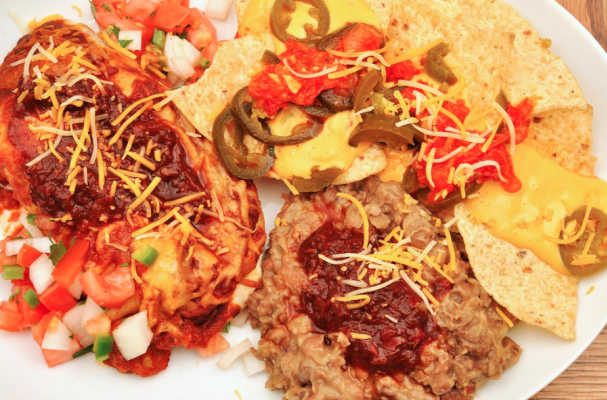 It doesn't get any easier than salsa chicken. This simple chicken recipe is perfect for busy weeknights when dinner needs to be on the table fast. Chicken breasts are coated in taco seasoning and then covered with your favorite store bought salsa before being baked in the oven. If you have homemade salsa on hand, feel free to use that instead. A sprinkling of Mexican cheese just before serving adds the perfect amount of richness to the dish. I like to serve my salsa chicken with a side of Mexican rice and beans and a generous dollop of guacamole.
Salsa Chicken
4 chicken breasts
2 teaspoons taco seasoning
1 jar favorite tomato salsa
1 lime
1/2 cup shredded Mexican Cheese
Preheat oven to 375°F. Season both sides of chicken breasts with taco seasoning mix and place in ungreased 2-quart glass baking dish.
Pour salsa over chicken.
Bake the chicken for 25 to 35 minutes or until chicken is fork-tender and juices run clear. Cut the lime in half and squeeze the juice over the chicken.
Sprinkle the shredded Mexican cheese evenly over chicken. Bake for an additional few minutes until cheese is melted. Serve with flour tortillas, Mexican rice and refried beans
Image Sources: