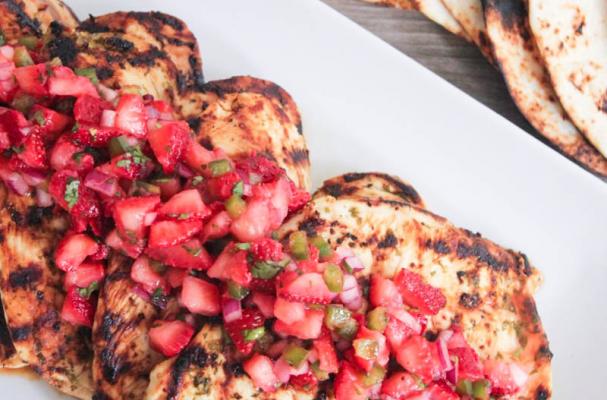 Grilled chicken breasts are a quick and easy meal that can be prepared any night of the week. They can take on the flavors from any part of the globe whether it's olive oil, garlic and basil or soy sauce, ginger and chili, it will be delicious. Below are five super easy grilled chicken meals to add to your recipe repertoire.
Grilled Chicken Parmesan
Submitted to Foodista by Beth Roan
This light and healthy version of chicken parmesan is easy to prepare on the grill. Instead of a chicken breast being breaded and fried, they are seasoned with salt and pepper and grilled. They are topped with a heart healthy tomato sauce and low-fat cheese.
Cumin Spiced Grilled Chicken Breasts
Submitted to Foodista by The Living Gourmet
Cumin spiced grilled chicken breasts are the star in this simple chickpea and green tomato salad. If you aren't on a low carb diet, you can stuff this salad and chicken into a warm pita with some tzatziki sauce (a Greek cucumber and yogurt sauce).
Grilled Garlic Basil Chicken Breasts
Recipe from A Family Feast
Garlic and basil marinated chicken comes together in minutes before it hits the grill. This recipe is so simple, you'll be making it the remainder of the summer. Grilled balsamic peaches are served alongside for a perfect match.
Thai Inspired Grilled Chicken
Recipe from The Yummy Life
The bright and fragrant Thai flavors really shine through in this grilled chicken recipe. A blend of cilantro, basil, ginger, jalapenos and coconut are used to make the homemade marinade. Serve these delicious chicken breasts with coconut scented rice and cucumber salad.
Grilled Cilantro Chicken with Strawberry Salsa
Recipe from Domesticate Me
Grilled cilantro chicken is an crowd pleasing meal that the whole family will love. Thinly sliced chicken breasts are soaked in a mixture of pureed cilantro, honey and lime juice before it's grilled. Allow the chicken to marinate for at least 20 minutes (or longer if you can) before cooking. Serve this quick and easy meal with a fresh strawberry jalapeno salsa
Image Sources: