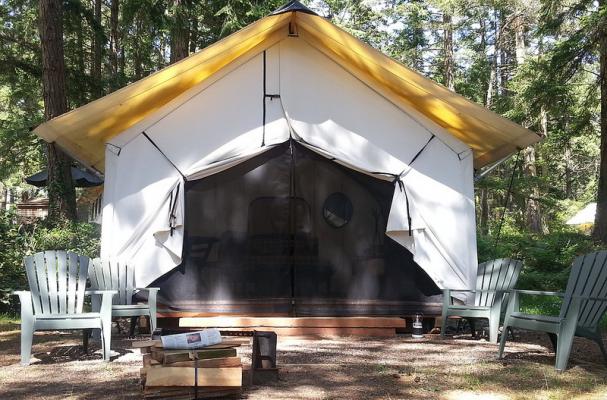 This summer, embark on a gourmet glamping adventure that you won't soon forget. "Glamping" is all the things you love about camping (hearing the crickets, outdoor cooking, s'mores, staying up late telling ghost stories around the fire), without the things you don't love about it (sleeping bags on a hard surface, no showers, general "rough it"). It's glamorous camping, and when you add in amazing food that you cook over an open fire alongside a celebrated chef, you get Gourmet Glamping.
Last weekend we headed to Lakedale Resort at Three Lakes on beautiful San Juan Island, Washington where we cooked up a memorable multi-course feast with Chef Kyle Nicholson, chef/owner of the island's Duck Soup Inn, and drank a lot of amazing wine from Annette Bergevin of Bergevin Lane Vineyards. After eating and drinking ourselves silly we slept comfy and cozy (complete with hot water bottle to warm our toes!) in the queen-sized bed in our tent. Get a glimpse of our wonderful day at Lakedale Resort below and read the full story of our gourmet glamping experience here.
Be sure to check out Lakedale Resort's summer Gourmet Glamping series with some of the area's renowned chefs kicking off this July!
Categories: