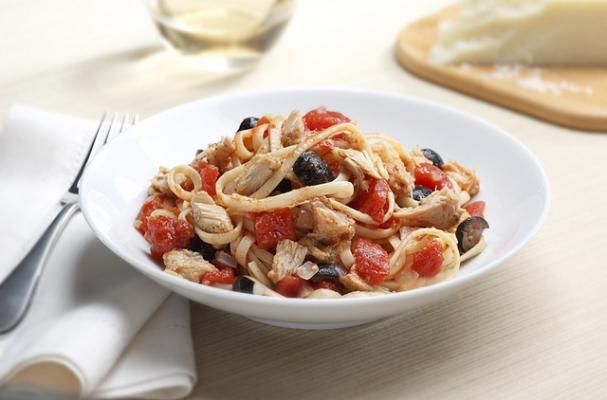 The whole family will love this rich tomato and tuna pasta dish! Toss in garlic, fresh basil, black olives and give it a kick with red pepper flakes. Your family will think you're slaving away in the kitchen but this dish takes just 5 minutes to whip up, so pour yourself a glass of wine, imagine yourself on the Amalfi coast, and enjoy a little "you" time!
Mediterranean Style Linguine
Courtesy of Starkist
Serves 6

2 pouches (6.4 oz.) StarKist® Albacore Tuna in Water
12 oz. linguini pasta
2 Tbsp. Olive Oil
1 clove garlic, minced
¾ cup chopped onion
1 can (14.5 oz.) diced tomatoes, Italian seasoned
2 Tbsp. chopped fresh basil
16 whole black olives, sliced in half
Red pepper flakes, optional
Cook pasta according to package directions
In medium sauté pan, sauté onion and garlic in olive oil until translucent. Stir in tomatoes and tuna and red pepper flakes if desired; simmer for 5 minutes. Add black olives.
Toss with pasta and divide among 6 plates. Sprinkle with basil and serve.
Nutritional Information:
Calories: 350; Total Fat: 7g; Cholesterol: 20mg; Sodium: 510mg; Carbohydrates: 49g; Fiber: 3g; Sugars: 5g; Protein: 23g