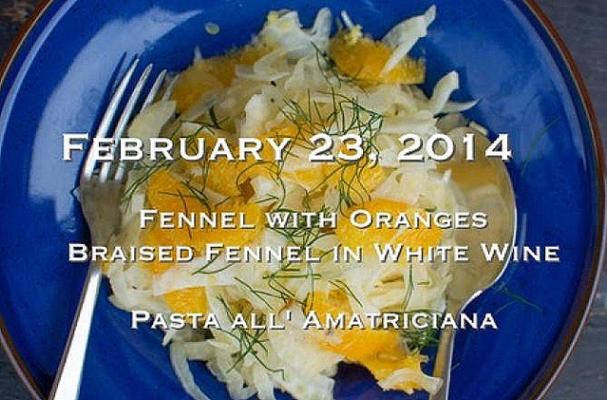 La Tavola Marche is a beautiful inn, farm and cooking school located in Le Marche Italy. We've been fans of theirs for years and are excited to share their newly launched live cooking school! Don't miss this exciting and educational series.
During this week's La Tavola Marche LIVE from ITALY Online Cooking Class, they will cook fennel in two diverse recipes: Fennel with Blood Orange Salad & Braised Fennel in White Wine as well as Pasta all'Amatriciana. What is fennel? A big onion? A bulb? Is it even edible? YES and how delicious it is! The secret is to know how to use it and what to pair it with. Then, learn how to make a rich porky red sauce - Amatriciana is a tomato sauce with cured pig's cheek (guanciale di maiale) or pancetta (or bacon). Move over regular old ragu because this savory porky tomato sauce is a favorite go-to sugo (pasta sauce) at their farmhouse!
Their classes focus not only the recipes at hand but the technique and theories behind each dish. It's more than just watching an episode of a cooking show on television because this is not only LIVE but interactive and you get a copy of the recording! Students/viewers will have the chance to ask questions along the way since all the cooking is done together LIVE! Either join in the fun and cook along with them (invite friends and cook together) or sit back and watch with a glass of wine.
MENU
Fennel & Citrus (Blood Orange) Salad
Braised Fennel with White Wine
Pasta all' Amatriciana
DETAILS
LIVE from ITALY: Online Cooking Class on Sunday, 16 February 2014
Early Broadcast: 1pm EST / 10am PST
Late Broadcast: 4pm EST / 1pm PST
(The class will last about an hour in duration. You will receive a copy of the recording as well.)
Price: $5
To register, email: info@latavolamarche.com. Please send an email and include your preferred time slot (Early or Late). Once payment is received (via PayPal) they will send you the recipes, ingredients & equipment list plus the all important pre-class prep list! The class will be recorded and sent to you 1-2 days after the broadcast.
Pricing
$5/Class
$20 for Package of 4 Classes
$100 Private Class (Just you and the Chef face to face online LIVE! Includes a pre-class Skype chat to discuss the menu planning and class details. Cooking class about an hour and half in duration. Date and time to be determined.)
For more details, upcoming classes and menus

Click Here!
To visit their farmhouse in Italy and cook with them in person (featured in USA Today) Click Here!