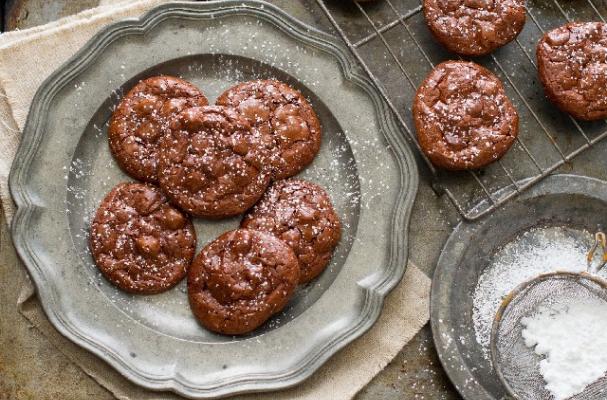 These gluten-free chocolate crinkle cookies are a chocoholics dream dessert. Delicate, light, and absolutely delicious, these cookies can be prepared in under 30 minutes (and that includes baking time). Send these chocolate crinkle cookies in your child's lunch box and make them as an afternoon treat.
Gluten-Free Chocolate Crinkle Cookies
Recipe Courtesy of Nestle
Ingredients:
Parchment paper
3 cups powdered sugar, plus more for dusting
¾ cup NESTLÉ TOLL HOUSE Baking Cocoa
1 teaspoon NESCAFÉ TASTER'S CHOICE House Blend 100% Pure Instant Coffee Granules or ½ teaspoon ground cinnamon
½ teaspoon salt
1 cup NESTLÉ TOLL HOUSE Dark Chocolate or Semi-Sweet Chocolate Morsels
4 large egg whites, at room temperature
1 teaspoon gluten free vanilla extract
Directions:
Preheat oven to 325° F. Line baking sheets with parchment paper.
Combine powdered sugar, baking cocoa, coffee granules and salt in large bowl; stir in morsels. Add egg whites and vanilla extract; stir until combined.
Drop by level tablespoon 2 inches apart onto prepared baking sheet.
Bake for 13 to 15 minutes or until tops are cracked and shiny and edges are firm. Cool on baking sheets for 2 minutes; remove to wire racks to cool completely. Dust with additional powdered sugar, if desired.
Cook's Tip: for Chocolate Fudge Coconut Crinkle Cookies, eliminate instant coffee and stir in 3/4 cup shredded sweetened coconut with the morsels.
Image Sources: