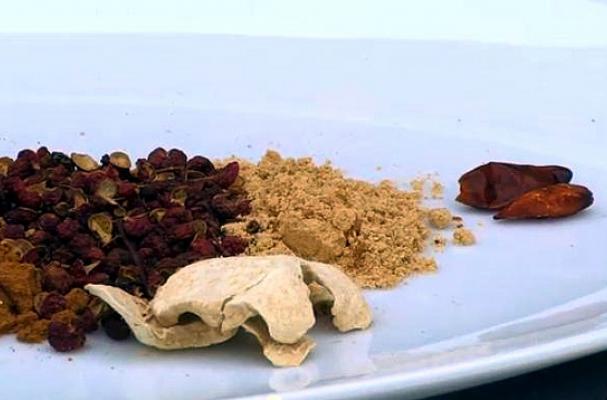 Experimenting with different meats and cooking methods (such as baking and grilling) will help you create an array of delicious main courses from the same dry rubs, each highlighting different flavors. Jordan Winery Executive Chef Todd Knoll teaches us how to make the Jordan house dry rub base recipe that can quickly and easily be adapted into Asian, Mediterranean or Indian dry rubs.
Watch the video below on how to prepare the base rub and three ethnic variations. See below for recipes and video transcription.
Jordan Dry Rub Base
Yield ~5 cups
This rub is a staple in the Jordan kitchen and can be used on its own or as a base for ethnic spice rubs. It will last you all season!
~ 2 cups kosher salt
1 cup granulated sugar
½ cup demerara sugar
½ cup black peppercorns
3 T ground garlic
3 T Colman's mustard
4 T dried onion
Get the instructions and recipes for the Indian, Asian and Mediterranean rubs here.
Be sure to check out these great tips and recipes too!
Easy Entertaining: A Garden Fresh Edible Centerpiece
The Perfect Cabernet Sauvignon and Steak Pairing
How To Make Amazing Infused Oils at Home
Get recipes, cooking tips and more from Jordan Winery Blog and here:
Dry Rub Recipe –How to Make a Dry Rub Base for Asian, Indian and Mediterraneean Dry Rubs
Today we're going to talk about summer dry rubs, how to start with a base that will last you throughout the summer and then three ethnic blends off of the base and we'll do an Asian and Indian and a Mediterranean rub.
Today we will begin with our base rub. This rub should get you throughout the summer if stored properly in a cool dark place. The total recipe will create about five cups of dry rub. Five cups of dry rub will be enough for 80 portions or 40 pounds of meat. Because of the size of the recipes and the quantity that we're talking about here, this is for illustrative purposes only.
For our recipe we will begin with two cups of kosher salt, I prefer to use kosher salt because it is clean, easy to measure. For the sugar I'llpoint out I use two types, I use a ground white granulated sugar and I use demerara sugar, one cup of the white, one half cup of the demerara raw sugar. I'm getting flavor out of that, those molasses components in those, one half cup of black peppercorns freshly ground. I prefer Indian black peppercorns, Tellicherry, this is Extra Bold from Penzeys Spices. Your pepper should never be used ground, notice that this is extremely black and not grey, three tablespoons of ground garlic, three tablespoons of Colman's mustard, a good neutral mustard, not too much heat, we want to watch the heat across all of our spice rubs as we're pairing with wine, four tablespoons of dried onion. Again, this is from Penzeys, I dehydrate my own. But Penzeys is a great … this has great onion flavor, there are some poor examples, but if you go with Penzeys you can't go wrong, if for your dry rub you're using whole spices, which I recommend, then simply add them all together in a spice grounder and then mix in a non-reactive bowl. If beginning with ground spices simply place them in a non-reactive bowl and use a whisk or your fingers and blend them together.
So this is the pre made base rub. I recommend using a mason jar, they're easily reusable, they seal tightly with the rubber gasket, store in a cool dark place and this will keep for two to three months.
Now we will begin with our base, and we will make an Asian rub.
So these are our Asian ingredients. We have one tablespoon of fermented black bean, one tablespoon of tangerine peel, one tablespoon of Chinese five spice powder, a half a tablespoon of Sichuan peppercorns, one half tablespoon of ground ginger or Galangal if available, and two each of chili piquin. The Chinese black beans are fermented, they're available on most ethnic groceries, I finely chop them, this is the one ingredient that can't go into your spice grinder. This is going to add umami, that soy sauce, that sixth taste within the dry ingredients. This is the closest I've come to it. The dried tangerine peel is very classical in Chinese and Southeast Asian cooking. The Chinese five spice powder also contains the garlic, the Sichuan peppers, some liquorice and there are actually probably eight or nine spices in Chinese five spice powder. The Sichuan is actually not a peppercorn, it is a berry. And there's nothing quite like it. It has a numbing agent and is very identifiable in Chinese food. Galangal will have a piney resinous taste, which is Southeast Asian or this is Chinese dried ginger. And then chili piquin is also used in Latin cooking, but is used in Chinese cooking as well. Most of these items may be found in ground form at an Asian market, with the exception of the fermented black bean which must be chopped by hand. If you're in a pinch I would simply … I would recommend substituting four tablespoons of the Chinese five spice to our base blend. I prefer this rub with pork, a rib dry rub, finishing with a wet mop, and it's excellent with duck which is also a game pairing which is fabulous with the Cabernet Sauvignon. So now that our black beans have been cut by hand, all of the ingredients can be added to the spice grinder at once and then ground to a fine powder. Once the spice has been ground, blend it with a one and a quarter cup of base, then it can be stored just as we did our base. I would however, if at all possible, allow the flavors to blend and meld in the base itself for 48 hours before using for the first time.
The next blend I'll show you is a Mediterranean blend.
And to our one and a quarter cup base we'll add one tablespoon of oregano, a half a tablespoon of marjoram, a half tablespoon of cumin, a half tablespoon of sumac berry, a half tablespoon of dried lemon peel, a half tablespoon of Aleppo pepper, and one tablespoon of smoked Spanish paprika. So when designing these ethnic blends it's a rather broad mingling of all the different cultures. We have Turkish oregano, we have marjoram from Greece. I have sumac berry again from Turkey. The sumac allows us to incorporate a brightness and a red berry flavor into the rub without the addition of acid which would compete with the Chardonnay or Cabernet. Whole cumin if available, toast and then ground. The Turkish Aleppo pepper is a sweet roasted pepper, it imparts very, very little heat. And the smoked Spanish paprika comes from the Basque region. These are smoked over open fires and there's nothing else like it. And I really think that captures the Mediterranean and makes a distinctive rub. The procedure for finishing our blend is the same as the Asian, all of these ingredients which equal approximately four tablespoons are added to our one and a quarter cups of base blend.
So now for our final rub, we will do our Indian rub.
So to our base we will add three teaspoons of cumin, I recommend using whole cumin, toasting, two teaspoons of coriander – whole coriander, again are very fleeting with essential oils, toast it right in advance, two teaspoons of fennel pollen, you get that great anise flavor, works well with the Cabernet, two teaspoons of turmeric, a substitute for saffron, it's a bright color and a very distinct and unique flavor, two teaspoons of ground ginger, these are the cardamom pods, this is readily available on most baking sections, ground, but if you can't find the pods, again, toast and grind. And if you don't have the time or cannot locate any of these whole ingredients, I recommend … and this is from Penzeys as well, this is their Maharajah curry paste, it's very mild in heat but it is the best peppers, the best saffron from Kashmir available. This is an excellent substitute, an all-round curry powder to pair with wine. I recommend when pairing with wine you use a mild curry rub. This is very low in heat and heat will bring out the alcohol in a wine so it doesn't pair well. So this would be considered a medium to sweet curry. So once you have this in your cupboard it's easy to grab whatever proteins available, whatever someone brings over, for pot luck, put your own spin on it and then either grill it, slow cook it, use whatever cooking preparation you're using that day. But you're one step ahead and you're customizing that meal.