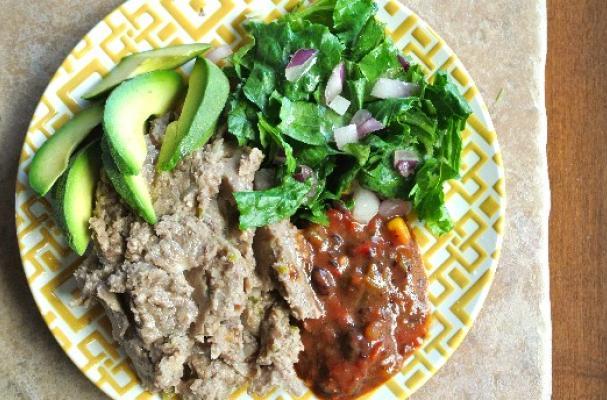 Vegan slow cooked refried beans from Vegan in the Freezer is one delicious way to satisfy a craving for Mexican food. Pinto beans are cooked low and slow with onions, garlic, and spices. When the beans are cooked in this method, they absorb more flavor and become incredibly tender. These beans are great alongside vegan enchiladas or tacos or can be served on their own with rice. The best part is, you can start this dish in the morning and enjoy it by the time you arrive back home.
Ingredients:
1 lb. bag of pinto beans
2 Tablespoons olive oil
4 cloves garlic, finely diced
1 small onion, finely diced
1 chile pepper, finely diced
1 teaspoon cumin
1/2 teaspoon oregano
1/2 teaspoon chili powder
1 teaspoon salt
Directions:
Pick through beans for stones and then rinse the beans.
Put the pinto beans in a large pot with water to cover, about 6 cups of water.
Let the pot set all day or overnight and the beans will plump up.
Drain the water from the beans and put the beans into a slow cooker.
Cover with fresh water by about 1 to 2 inches.
Turn on high for 3 hours.
While the beans are cooking prepare the vegetables.
In a large skillet add the olive oil and onion. Saute the onion until translucent.
Add the garlic and chili pepper. Cook 2 more minutes.
Add all the spices to the pan. Cook another minute stirring occasionally. Set aside.
When the beans are done mash in the crock pot with a potato masher .
Add the onion mixture and mix well. If it is too dry you can add a some more water.
Turn the slow cooker back on to the low setting. Cook 1 hour.
That's it! The best refried beans and so much healthier than the canned beans.
VARIATION: If you need to add more liquid at the last hour of the final cooking process you can add some tomato juice or diced tomatoes. It is also a yummy variation. Even a little salsa can be added if your family likes the extra spices.
TO FREEZE: If freezing - Put in a freezer container as defined in my article http://veganinthefreezer.com/preparing-food-for-the-freezer
TO PREPARE AFTER FREEZING: Remove from the freezer and put in the refrigerator overnight because it is a pretty solid mass and will take longer to defrost. Heat, covered, in a microwave or in a saucepan. Add a little more liquid if it seems to dry.
Image Sources: