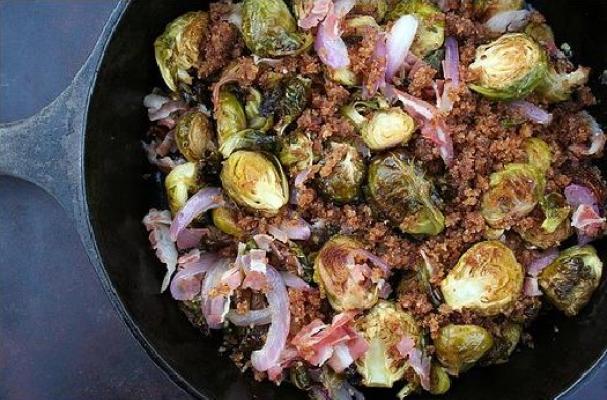 For the next two weeks, Foodista will be sharing recipes to create the ultimate Thanksgiving meal. To kick off this series is an easy recipe for roasted Brussels sprouts with red onion and pancetta. While many Thanksgiving dishes may be time consuming and complicated, this side dish is not. Brussels sprouts are roasted in the oven with garlic before being combined with crispy pancetta and sauteed onions. There is nothing like a straightforward dish during the holidays.
Roasted Brussels Sprouts With Red Onions and Pancetta
Ingredients:
In a large plastic zippered bag, toss the Brussels sprouts, 3 pressed garlic cloves and 2 tablespoons
Olive
Oil
.
Empty the contents into a ovenproof dish and roast at 350 degrees for 40 minutes.
While the Brussels sprouts are roasting, in a pan heat 1/4 cup olive oil. When the olive oil is heated through, saute a slice of bread until browned on both sides. Set aside.
When the Brussels sprouts have finished roasting... In the same pan that you
sauteed
the bread, add the onion and saute for about 3 minutes. Do not let them get fully tender. Add the pancetta and heat through for an additional minute.
Add the Brussels sprouts and heat through for an additional 3 minutes. Remove from heat.
In a food processor, blend the bread and 1 - 2 cloves of garlic.
Sprinkle on top of the Brussels sprouts mixture and finish by a last drizzle of Olive Oil!
Image Sources: