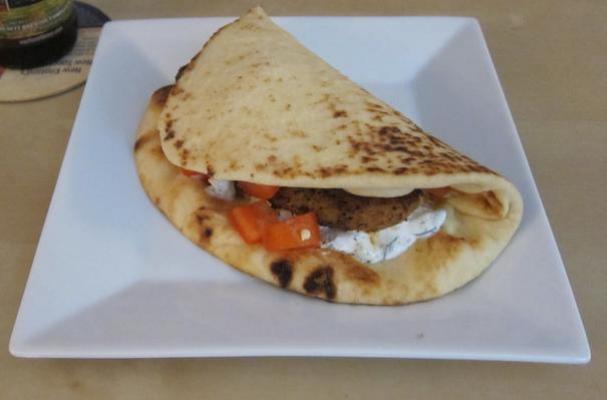 These curry chicken naan wraps are a worldly dinner that you can make any night of the week. Chicken breasts are heavily seasoned with curry powder, garlic, and other spices. Before serving, warm the naan in the oven so that the bread become soft . This recipe serves two people so if you are feeding a family of four or more, double or even triple the ingredient amounts.
Ingredients:
Tzatziki:
1/4 cup plain Greek yogurt
1/8 cup diced cucumber
Dried cilantro
Salt and black pepper, to taste

Curry Chicken:
2 thin sliced chicken breasts
Curry powder
Chili powder
Crushed red pepper
Dried cilantro
Ground ginger
Cumin
Salt and black pepper, to taste
2 tablespoons .extra virgin olive oil
1 small clove garlic, minced
2 pieces Naan
Directions:
Directions for the tzatziki: In a small bowl, mix all of the ingredients together. Cover, and place in fridge for at least 30 minutes before serving time.
Directions for curry chicken wraps: Season both sides of the chicken breasts with curry, chili powder, crushed red pepper, cilantro, some ginger, cumin and salt and pepper (be careful to use only a little ginger). Heat olive oil in a saute pan, and place chicken in pan once oil is hot. Brown chicken on both sides; then add garlic. Cover pan with tin foil and place in 375* oven for 7 to 8 minutes. Once chicken is cooked through, let cool on counter (still covered) and turn oven to 400*. Rub a little bit of olive oil on the Naan, and place on a cookie sheet. Cook for 2 to 3 minutes. Let Naan cool for 1 to 2 minutes, and then slice chicken, lengthwise. Add one sliced chicken breast to each piece of Naan, as well as a healthy dollop of tzatziki. Fold Naan in half over the chicken and tzatziki, and eat like a wrap or sandwich.
Makes 2 Servings
Image Sources: