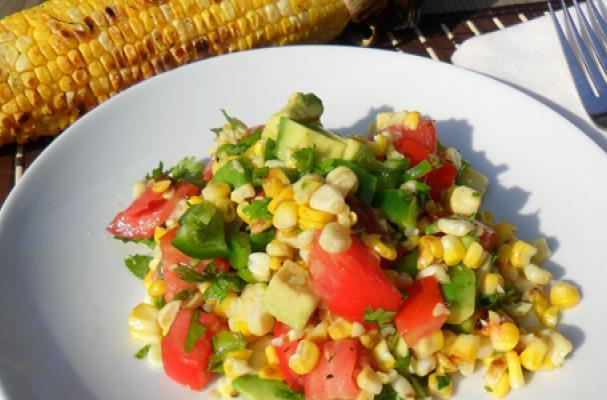 This sunshine corn and avocado salad is a summery side dish. Named after the bright yellow corn kernels, this salad is perfect for outdoor barbecues, picnics, or family potluck. Grilled corn is combined with fresh summer tomatoes and creamy avocado. The vegetables are tossed in a spicy sweet dressing of sugar, lime juice and jalapenos. If you are not serving this salad right away, don't add the avocado because it will turn brown. Sunshine corn and avocado salad is a must-make dish of the season.
Ingredients:
6 ears of corn
2 avocado, peeled, pitted and cubed
2 tomatoes, diced
1 bunch green onions, sliced
2 jalapenos, seeded and minced (omit if you do not like heat)
1/2 cup chopped cilantro leaves
2 limes, juiced
1/3 cup olive oil
1 tsp lime zest
1 tsp white sugar
1/2 tsp salt
Directions:
Remove the husks off the corn. With a paper towel moistened with some oil, rub the ears of the corn to lightly coat the corn with a bit of oil.
Place corn on a grill set to medium/high. Turn the corn a 1/4 rotation every 5-7 minutes. After the corn has been cooked on all sides remove and let cool.
Cut the kernels off the cob by placing the base of the ear on a cutting board and start the knife at the top cutting the kernels off as you work your way down. It is not that hard and after a couple cobs, you will get the hang of it.
In a large bowl add the corn kernels, diced avocado, tomatoes, onions, jalapeno and cilantro. Toss gently.
In a small bowl mix together the remaining ingredients to form the salad dressing.
Pour the dressing on the salad and mix so that the salad is nicely coated.
Image Sources: