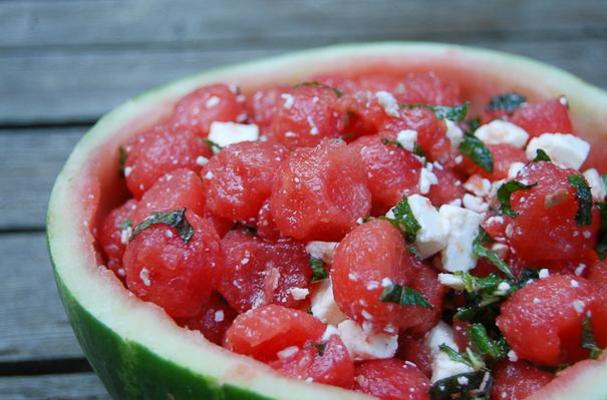 This watermelon, feta, and mint salad is a light and refreshing dish to enjoy throughout the summer. Try to use the best ingredients available because you want the flavors to be bright, not muted and dull. You will want to taste the combination of the acidic balsamic vinegar, the sweet watermelon, bright mint, and salty feta. Serve this watermelon salad alongside a piece of grilled fish and you will have the perfect summer meal.
Watermelon, Feta, and Mint Salad
Ingredients:
1 seedless watermelon, sweet and delicious
3 ounces (or more depending on what you like) feta cheese, a nice creamy one
1 cup of fresh mint
1/4 cup olive oil
1/4 cup balsamic vinegar-very good quality
black pepper if you like pepper
Directions:
Cut watermelon in half and remove watermelon from rind. You can either spoon it out like a mad man, carefully remove it and cut it into squares, or scoop it all out with a melon baller-which is what I did. I liked the look of all those succulent balls of watermelon.
So, scoop out your watermelon and put it in a bowl-I used the leftover water melon rind for my bowl, and you're going to add your dressing, which is so simple, soooo easy.
Make the Salad Dressing: Add your oil, and vinegar. No salt necessary as the feta is salty.
Mix this all together and chill for 15 minutes, which will give you time to prep your mint.
Chiffonade the mint, which means cut it into fine ribbons. Roll up the mint leaves like a cigar and then cut it into nice strips or ribbons. I had my daughter and her friend do this for me; they are 10 so you can see how easy this is.
Next crumble over with that delicious creamy feta cheese. The salty contrast with the sweet melon is so crazy good that it is hard to describe.
To finish add the fresh mint, which brings it all together. And a little more black pepper at the end so there's a little on the feta.
Image Sources:
Categories: