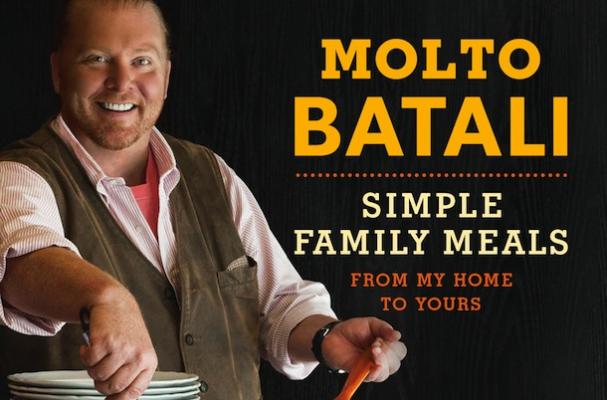 I don't know if there is a cuisine more appreciated or loved in this country than that of Italy. American's are obsessed with all things Italian. 2011 has been a particularly good year for Italian cookbooks. These chefs and culinary scholars have studied, wrote, and perfected the art of Italian cookery. These seven cookbooks are Foodista's favorites.
Molto Batali by Mario Batali
Mario Batali's new book, Molto Batali, focuses on seasonal family fare. The book is divided into the twelve months of the calendar year. Each chapter contains a mouth-watering main dish such as braised chicken with sweet onions and parmigiano, three al dente pastas like spaghetti with cauliflower and coppa, four flavorful vegetable sides such as stuffed acorn squash, a comforting soup, and a decadent dessert. Additionally, there is a full color photograph by Quentin Bacon for each dish. Molto Batali presents Italian food in an approachable yet authentic way.
The Country Cooking of Italy by Coleman Andrews
The Country Cooking of Italy from food expert Coleman Andrews features real farm to table cooking. You will see familiar dishes like fried squash blossoms, caponata, and baked winter squash but you will also get to taste less mainstream dishes like pork cooked in milk, pheasant with figs, and Sardinian potato ravioli. This book is beautifully photographed by Hirsheimer and Hamilton. Cooking your way through this book will make you feel as if you are traveling to the small towns, farms, and little known regions of Italy yourself with tasty memories all along the way.
The Silver Spoon by Phaidon Press
The new edition of Silver Spoon is the updated version of this classic tome on Italian cooking. With over 2,000 recipes and 400 new photographs, you will never run out of dishes to cook. You will find recipes from the different culinary regions of Italy as well as menu ideas for festive occasions and from celebrated chefs including Mario Carbone and Rich Torrisi, Massimo Bottura, and Paolo Lopriore.
The Glorious Pastas of Italy by Domenica Marchetti
When we think of Italy, one food comes to mind above all others-pasta. In Domenica Marchetti's The Glorious Pasta of Italy, she provides countless ways to prepare pasta that will always leave you wanting more. The first chapter is devoted to the art of making fresh pasta. You will learn not only how to make standard egg dough but also whole wheat pasta dough, pumpkin pasta dough and even saffron pasta dough. The dishes range from pasta in soup, stuffed pasta, baked pasta and showstoppers beautiful enough to serve at a dinner party. This book highlights pasta's versatility and daily presence in American homes.
The Italian Baker by Carol Field
Carol Field's first published The Italian Baker in 1985. Field's spent two years documenting regional baking specialties and adapting them to suit the American kitchen. You will learn how to make authentic foccacia, rolls and breadsticks, celebratory breads and other Italian specialties. This updated version is complete with full color photography, new information on sources, equipment, weights and measurements, and thorough instructions on the natural yeast method. Even if you have the first edition, it's well worth getting the new version of this Italian baking classic.
Lidia's Italy in America by Lidia Matticchio Bastianich and Tanya Bastianich Manuali
Lidia Batianich takes readers through the kitchens of Italian-Americans in her new book, Lidia's Italy in America. Bastianich tours various Italian-American communities where she discovers recipes that are in essence Italian yet at the same time, distinctly American. She finds muffuletta sandwiches with briny olives and Sicilian-style semolina bread, California inspired artichoke soup, Italian beef sandwiches in Chicago, and much more. This book pays homage to their roots in the old country while also honoring the the culinary influences of the new world.
Rustic Italian Food by Marc Vetri
Marc Vetri's Rustic Italian Food is not just another Italian cookbook. This book is as much about the food as it is about proper technique and culinary knowledge. Vetri's passion for what he cooks comes through the pages as if he is telling you about the best way to make pizza dough himself. Rustic Italian Food contains 120 of Vetri's favorite recipes including fusili with fava beans and pecorino, chocolate zabaione tart, and others. In addition, the reader will learn indispensable information about rolled and extruded pastas, salumi, and dough that could match any professional textbook. Rustic Italian Food will undoubtedly enhance your understanding of Italian cuisine and ultimately make you a better cook.
Image Sources: