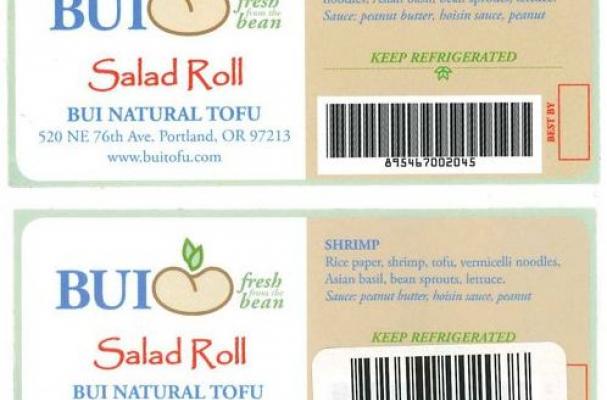 BUI Natural Tofu, from Oregon, announced a recall for certain varieties of its salad rolls. The rolls were recalled for the presense of undeclared allergens in the ingredients.
The state's Department of Agriculture, found that the products contained wheat and soy, not declared on the product's list of ingredients.
Consumers who are allergic to either wheat or soy (or both), are advised not to consume the salad rolls. The recall:
"Shrimp Salad Roll" (UPC code 8-95467-00203-8) and "Vegetarian Salad Roll" (UPC code 8-95467-00204-5). These products are sold under the "BUI Fresh from the Bean" brand. The recalled salad rolls are packed in trays and wrapped with clear plastic. The products' expiration dates, which range from 9/2 to 9/13, is printed on a white sticker placed on the product's packaging. The recalled products are displayed in the refrigerated products section of retail stores and have a shelf life of three days.

The recalled salad rolls were distributed to various retail stores in the area ofPortland,Oregon. Customers who were able to buy the recalled products are advised to return it to the store for a complete refund. Consumers may also call the company at 503-803-3059 from 8 AM to 5 PM, Pacific Standard Time.
Image Sources:
Categories: