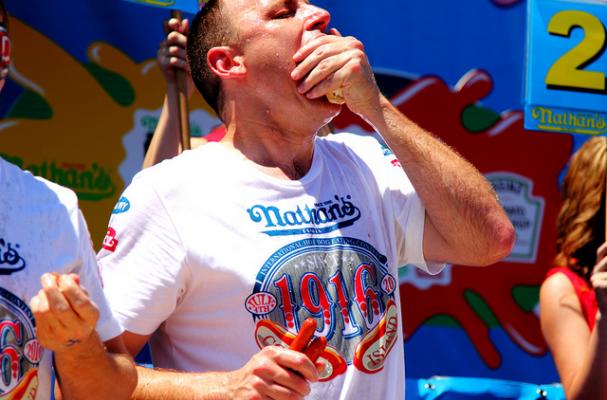 Joey Chestnut won today's Nathan's Hot Dog Eating Contest, marking the fifth time in a row that he's come to Coney Island and conquered his opponents. Chestnut ate 62 hot dogs over a 10-minute period, good enough to beat the second-place finisher Patrick Bertoletti by nine hot dogs.
As Joey Chestnut was competing in the Nathan's event, Takeru Kobayashi held his own hot dog-eating competition at a bar. Kobayashi claims to have eaten 69 hot dogs at that venue, but since he hasn't signed a contract with Major League Eating, he can't compete at officially sanctioned events.
"It wasn't a competition," Chestnut said of Kobayashi's stunt. "It was him just eating. I've done 71 in practice by myself. It's his choice not to be here. He could have signed the same contract he signed three (years) ago."
Image Sources: