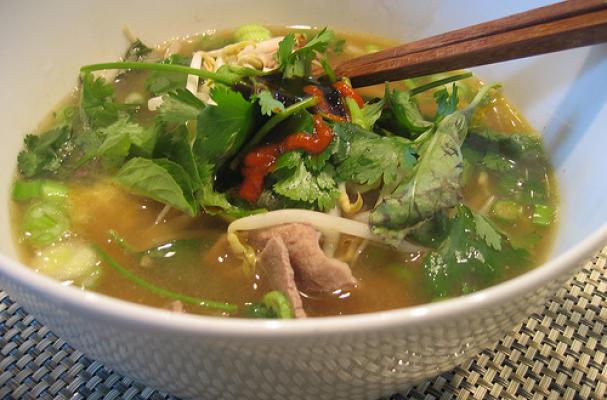 Most people would haul themselves down to the nearest pho restaurant and drop the $4 bucks for a styrofoam container of this Vietnamese noodle soup. But making it from home is so rewarding and just as delicious. A good pho starts with a rich and flavorful broth, so don't rush this step - it is worth every simmered minute.
To make the stock: Take about 4-6 short ribs and 2 big ox tails and roast them in the oven for about 30 minutes in the oven, or until they are good and browned. Once browned take them out of the oven, remove the fat and add the bones and meat to a stockpot.
Deglaze the roasting pan with a bit of chicken stock, then add to the pot.
Add a good hunk of ginger, about 2 inches sliced, and about 1 teaspoon of salt to the pot.
Pour in roughly 3-4 large (49 oz.) cans of chicken stock, and let simmer for about 3-4 hours. Skim off the fat scum periodically.
After the long simmer add the following (to taste): 8-10 black and white pepper corns (a mixture of both)
1 large yellow or white onion, roughly chopped
1 stick cinnamon
5 cloves
About 20 coriander seeds
¼ teaspoon cumin
¾ cups fish sauce
Simmer another 40 minutes, then drain the stock, reserving the liquid, and discard the bones and spices.
Prepare 2 packages of rice noodles (thin to medium; it's all a matter of preference) according to instructions – usually just a fast "swizzle" in boiling water.
Compile the following on a big plate: sliced limes, finely chopped green onions, a pile of bean sprouts, and sprigs of basil and cilantro.
Have an assortment of good chili sauce (Sriracha is great!) and hoisin or oyster sauce.
For the meat version use thinly sliced beef or pork; sukiyaki cuts are available at Asian markets. The thin slices will quickly cook in the hot broth.
You're now ready to assemble your pho. For individual servings, add some noodles to a bowl. Add sliced of beef and pour in some of your hot beef broth. Top with green onions, bean sprouts, and a handful of basil and cilantro. Give a good squeeze of lime juice and season to taste with chili sauce and/or hoisin sauce.
Categories: